ALL-YOU-CAN-EAT-DUMPLINGS at the Zoo
Friday 5th February 2021
WILD LIFE Sydney Zoo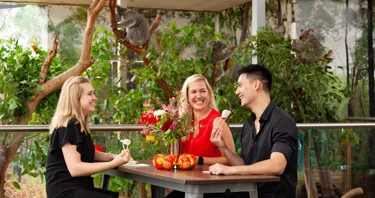 LOVE DUMPLINGS? BOTTOMLESS DRINKS? AND ANIMALS?
This Lunar New Year, WILD LIFE Sydney Zoo are offering all the above PLUS after-hour access to the zoo! They have teamed up with the dumpling-masters New Shanghai to bring back your favourite all-you-can-eat dumplings experience which now includes bottomless drinks!
Choose to have your festive 30-minute dumpling sessions at either Koala Rooftop with the adorable marsupials or at the Upper Croc Deck with a view of their resident 365kg crocodile Rocky. Both areas will be transformed into Chinese Dumpling Kingdoms complete with gold lanterns, orchid flowers, banners, inviting you to celebrate with koala-ty dumplings, which you will snap up in no time!
Diners will have access to a specially crafted menu of fan favourite dumplings from prawn to pork wonton, chicken, celery and more. They will also have access to bottomless drinks of sparkling, red and white wine, beer, soft drinks and juice.
Guests will also receive exclusive after-hours access to the zoo where they can meet and take selfies with iconic Australian animals. 
BOOK NOW
IMPORTANT INFORMATION
30 minute all-you-can-eat dumplings sessions. Choice between 3 daily sessions, from 5.30pm (or 6.00pm, depending on date) to 8.00pm
When:

On 11, 12 and 13 February, the first session starts at 5.30pm and the last session starts at 8.00pm, finishing at 8.30pm. Zoo closing at 9.00pm
On 18, 19 and 20 February, the first session starts at 6.00pm and the last session starts at 8.00pm, finishing at 8.30pm. Zoo closing at 9.00pm

Price: $80, which includes the all-you-can-eat dumplings experience, bottomless drinks and after-hours access to the zoo
Please allow between 45 to 60 minutes for your self-guided tour before your all-you-can-eat-dumplings session (it can take up 1h to walk through the zoo and get to Koala Rooftop or the Upper Croc Deck). 
All guests can stay in the zoo after their session until closing time at 9pm
BOOK NOW