April the Australian sea lion goes on an adventure!
Wednesday 5th October 2022
SEA LIFE Sunshine Coast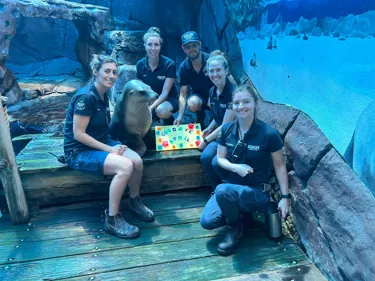 April will temporarily leave SEA LIFE Sunshine Coast as part of an endangered species breeding program

An endangered Australian sea lion from SEA LIFE Sunshine Coast Aquarium has jetted off to Taronga Zoo in Sydney this morning in an effort to help recover the dwindling population of this native species.
April the Australian sea lion will reside at Taronga Zoo for approximately six months where she will be given the opportunity to partner with a male Australian sea lion before returning to the Sunshine Coast.
The team gave her a delightful send-off featuring a cake made of fish and ice.
"We are extremely grateful to have the opportunity to potentially breed the Australian sea lion. This incredible endangered species is the only endemic pinniped in Australian waters. April is one of only two Australian sea lions at SEA LIFE Sunshine Coast, who are both female, which is why we are working with our friends at Taronga Zoo," said Carla Haskell, Mammals Manager at SEA LIFE Sunshine Coast.
"We are sad to see April leave us for six months, but it will be an amazing achievement for her to breed as this species is under threat from interactions with the commercial fishing industry and habitat degradation. Australian sea lions have a gestation period of 17-18 months so, if this attempt is successful, in 2024 we could have the first seal pup born at SEA LIFE Sunshine Coast since Teiko arrived in 1997," continued Carla.
With one resident of Seal Island departing, albeit temporarily, a new resident is due to arrive very soon. Watch this space to meet the new seal coming to SEA LIFE Sunshine Coast!
SEA LIFE Sunshine Coast is currently home to four species of seal and guests can catch the famous seal presentation daily at 10:30am, 12:30pm and 2:00pm. 
Find Out More