Birubi creates a splash at SEA LIFE Sunshine Coast!
Thursday 6th October 2022
SEA LIFE Sunshine Coast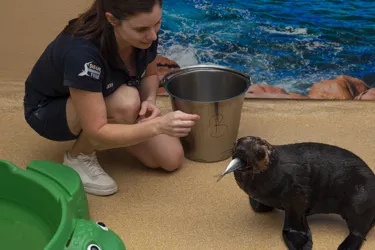 A new long-nosed fur seal pup has arrived on the Sunshine Coast
SEA LIFE Sunshine Coast Aquarium is excited to announce the arrival of an 18-month-old long-nosed fur seal pup named Birubi.
The small female seal relocated to the Sunshine Coast from Taronga Zoo in Sydney. Birubi was transported in a purposely designed transport crate before she boarded a commercial flight from Sydney to Maroochydore Airport with the help of JetPets. 
Birubi is an Indigenous name meaning 'Southern Cross'. She was born to first-time mum Keke and was the first long-nosed fur seal pup to be born at Taronga Zoo in over 20 years.
"Relocating any animal comes with months of planning and preparation and we're so excited to share that Birubi has arrived safely and is settling in well. Her confidence is already shining through, and her new trainers will slowly begin socialising her with the other seals within the colony," said Jess Hart, Mammal Trainer at SEA LIFE Sunshine Coast.
"Birubi is now the smallest resident at the aquarium's Seal Island, weighing just 12kg. Birubi will act as an important ambassador for her species educating thousands of guests who visit SEA LIFE Sunshine Coast each year about the important role seals play in our marine ecosystems," shared Jess.
Long-nosed fur seals are one of the world's most widely distributed seal species, naturally ranging from New Zealand, down to the sub-Antarctic Islands and across much of Australia's southern and eastern coastline, including the Sunshine Coast.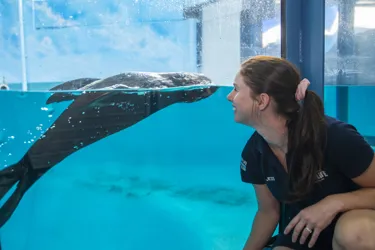 Seals visiting Sunshine Coast beaches are often observed both in the water or hauled out on land. Some seals seen close to shore are observed to be 'sailing', a behaviour which allows seal to thermoregulate where they will float on the surface presenting a flipper out of the water in effort to catch a cool sea breeze. This behaviour can often lead to concerns from residents often misinterpreted as a call for help.
Those fortunate to encounter a wild seal are encouraged not to be seal-y and to maintain a distance of at least 40 metres. Eared seals like Birubi are able to move at ease on land and even outrun a person!
SEA LIFE Sunshine Coast is currently home to four seal species and guests can catch the famous seal presentation daily at 10:30am, 12:30pm and 2:00pm to discover fascinating facts about these marine mammals and learn how to help protect them in the wild.