Brickman Cities is now OPEN at Sydney Tower Eye!
Friday 26th March 2021
Sydney Tower Eye, Lego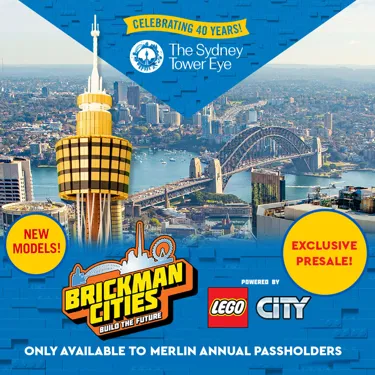 It's here - Brickman Cities opens today at @SydneyTowerEye!
Join them to explore the LEGO® Cities of the world, including 8 massive skyscraper models not seen in Sydney before! Then also catch a 4D LEGO® movie, make your LEGO® masterpiece in front of the Sydney views, meet in person EMMET from The LEGO® Movie & more!
To kick off the iconic landmark's 40th anniversary celebrations, the Sydney Tower Eye is hosting the exhibition created by LEGO® Masters judge Ryan 'The Brickman' McNaught - with over 20 models created from over 600,000 LEGO® bricks!
An exclusive exhibition experience created by The Brickman
Exhibition features eight massive never-before-seen-in-Sydney LEGO® brick skyscrapers
The Sydney Tower Eye Ticket also features: LEGO® 4D Movies, Emmet Meet & Greet Sessions, LEGO® Make & Take Experience, and more interactive experiences in front of the best views of Sydney!
Don't miss out on this unique LEGO® experience at the heart of Sydney!