Curtis Stone and Madame Tussauds Sydney cook-up a Halloween prank
Monday 31st October 2022
Madame Tussauds Sydney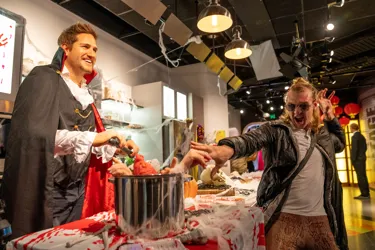 Celebrity chef boils a pot of limbs – one of them real and ready to grab guests!
Madame Tussauds Sydney played a Halloween prank on some unsuspecting guests admiring celebrity chef Curtis Stone, who was dressed as a vampire today, cooking-up a giant pot of wax limbs, brains and eyeballs in his kitchen.
Unbeknown to guests, the pot had a fake base and one of the protruding hands was real.
It belonged to Madame Tussauds Sydney's Michelle Nicolaou, hiding under the table, eagerly awaiting instruction through an earpiece to prank guests.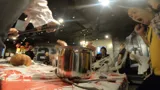 Pranks included, touching and grabbing guests who came in close, throwing brains, a heart and eyeballs at curious children, waving at dads – who waved back, and holding a peace sign, to photo-bomb guests, Addams Family "Thing" style.
"We were thrilled that Curtis Stone was onboard with today's Halloween prank. It was the epitome of the interactive fun the team cook-up here at Madame Tussauds Sydney, pun intended".
"I loved hearing guests scream and jumping back, only to then step back in curiously and interact with my hand. I even had a bone tug of war with one guest," laughed Michelle.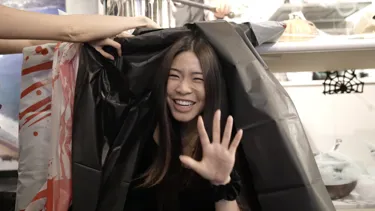 The real Curtis Stone, currently in LA, trick-or-treating with the kiddo's and charming festive party goers with his favourite Halloween recipes, was delighted for the Madame Tussauds Sydney team to set up a little freaky-festive-fun with his wax double.
Wax Curtis Stone has his own kitchen at Madame Tussauds Sydney, where attraction visitors are invited to step up to his guest's cooking bench to roll out pasty alongside him.
"The Madame Tussauds team decided that Michelin Star chef Curtis Stone would make no ordinary vampire. So like a modern-day Mrs Lovett from the classic Sweeny Todd, today he stands stewing body parts, with his pastry rolled out ready," laughed Michelle.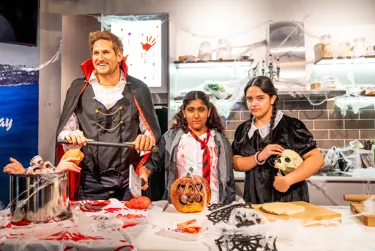 Guest and prank-victim Sacha Damiano said, "All the wax hands looked so real. My heart skipped a beat when one of them moved, and eyeballs and brains came flying out of the cooking pot."
"I need to get out of here, before someone tries to bake me into a body-parts-pie," joked Sacha.
Come and see what's cooking in Curtis Stone's kitchen:
Pre-Book Tickets Now