Don't Start Now! - Dua Lipa takes centre stage at QVB Sydney flash mob
Friday 14th October 2022
Madame Tussauds Sydney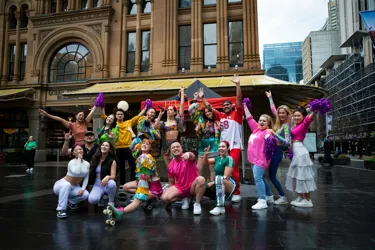 World's most life-like Dua Lipa wax figure launched at Madame Tussauds Sydney
Sydney CBD commuters were unexpectedly thrilled as the global pop superstar Dua Lipa's most life-like wax double, took centre stage of an unexpected dancing and roller-skating flash mob, outside the Queen Victoria Building (QVB).
Coming forth from various 'plant locations' around the QVB Forecourt, members of the Pioneers dance crew, skaters in tinsel jackets from RollerFit and volunteers from Madame Tussauds Sydney, ran energetic choreography to Dua Lipa's top hit Don't Start Now.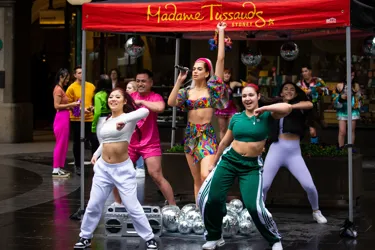 Standing centre stage, encircled by disco balls - Sydney's new Dua Lipa wax figure, created to reflect the moment in time from her performance at Sydney's Mardi Gras in 2020, wearing a psychedelic rainbow two piece, a pair of colourful high-heel roller skates held high in one hand, a microphone in the other. 
The flash mob was to celebrate the launch of Australia's own Dua Lipa wax figure – the most recent of four figures found at Madame Tussauds around the world. With fans on social media hailing the Sydney figure as the most realistic of them all, and not being able to distinguish between the real Dua and the wax Dua.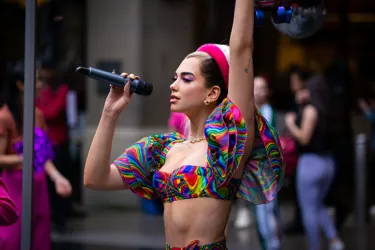 Lizelle Haigh, out for morning coffee said "I did a double take from across the road and had to come in closer to watch this epic show. What a fun morning surprise. I'm such a huge Dua Lipa fan! It's very impressive how real she looks".
Peachy Skaterr said: "We love Dua Lipa, especially her banger Don't Start Now. With the video featuring roller-skaters, it's a bit an anthem for our skating community.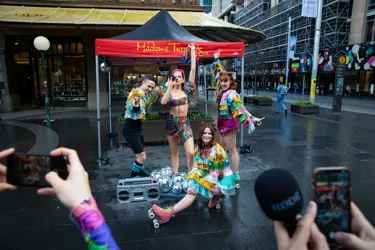 "The atmosphere and the crowd watching were great today. Some spectators dancing a little from behind their smart phones. We even saw tram passengers pressed up against the window to catch a glimpse".
The figure took over eight months to create, had each real human hair individually inserted and wears an outfit donated to Madame Tussauds Sydney by the designer of Dua Lipa's outfit for the sell-out official 2020 Mardi Gras afterparty at the Hordern Pavilion, Sydney.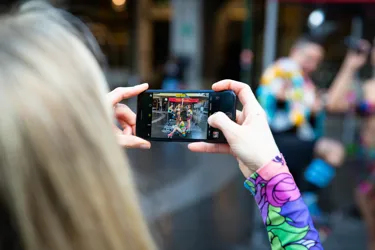 Of her figure creation, Dua Lipa told the Madame Tussauds London team: "It blows my mind! It's pretty crazy to see…it come to life. I'm hoping I can take it home with me!".
She continued: "I've been to Madame Tussauds a few times when I was younger and I took my family when they've come down from Kosovo and Holland and it's always been a really fun experience".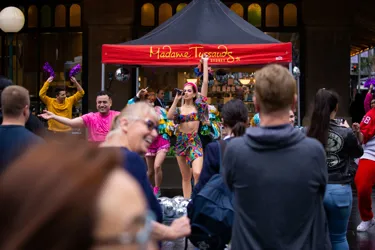 Those who missed out on this morning's show or tickets for her upcoming sell-out Qudos Bank Arena shows on 8 and 9 November 2022, can see Dua's double 'headlining' Madame Tussauds Sydney's interactive music zone - Sydney Live! With a star-studded line-up of musicians including Troye Sivan, Adele, Lady Gaga, and Rihanna.  
Inspired by a real life gig, guests can transport themselves into their own show, alongside global and local music superstars. Create and pose for their very own cover art, step behind the DJ booth, and own the stage as the headline act in the music zone Sydney Live!
Find Out More