Escape the crowds - Experience SKYWALK during Vivid Sydney at Sydney Tower Eye!
Tuesday 10th May 2022
Sydney Tower Eye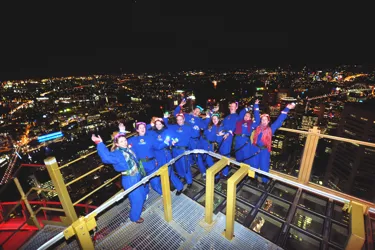 SKYWALK at the Sydney Tower Eye have released limited edition night climbs during VIVID
Across just four Saturday nights from 28th May, Sydneysiders have the rare chance to escape the crowds on an intimate and breath-taking VIVID SKYWALK. 
Not usually available in the evenings, this rare outdoor experience will see guests soaking up the stunning views from above the lit-up city skyline, catching glimpses of VIVID from 268m above the city and a thousand miles from care.
During the 60-minute VIVID SKYWALK experience, guests will be amazed at the exhilarating view as they walk 360 degrees around the outside of the tower and hear from the friendly guides as they point out iconic landmarks and share the best of Sydney's historic stories.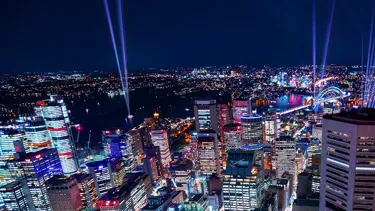 There will be plenty of fun with light-up bracelets and accessories to ensure guests meet the theme ahead of their photoshoot, with iconic landmarks such as the Sydney Opera House in the background.
As a cheeky bonus, a SKYWALK Photo Package is included complimentary for all VIVID SKYWALK ticket holders to ensure they never forget this once-in-a-lifetime experience, valued at $50.00.
Be warned, tickets are extremely limited with just two walks per evening - Don't delay, BOOK NOW!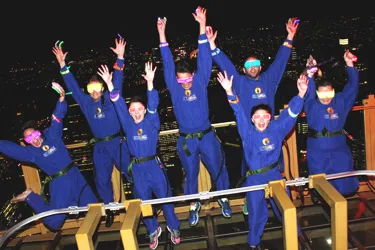 If you can't make the VIVID SKYWALK, never fear! Sydney Tower Eye is currently open from Thursday to Monday where guests can take their time to enjoy breath-taking 360-degree views of up to 80km, stretching as far as the Blue Mountains. Spot all the famous city landmarks, including Hyde Park, Darling Harbour, Circular Quay, and the Harbour Bridge, or simply be amazed by the beautiful sunsets.
What: VIVID SKYWALK - includes: 45 mins guided tour outside Sydney Tower Eye, access to the observation deck and a free SKYWALK Photo Package.
Where: Sydney Tower Eye - accessed within Westfield Shopping Centre, Level 5, 108 Market Street, Sydney NSW 2000
When: Saturday 28 May, 4 June, 11 June, and 18 June 2022
Time: 6pm or 7pm
Cost: $100 per person, conditions apply.
For more information and to BOOK NOW, visit:
Find Out More