First, you were like, whoa! And then we were like, WHOA!
Monday 26th September 2022
SEA LIFE Sydney Aquarium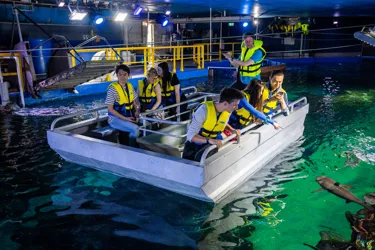 SEA LIFE Sydney Aquarium's new Turtle Encounter with Glass Bottom Boat Tour relaunch
This is so turtle-y awesome dude! You can now get even closer to the rescued marine turtles, sharks and other personalities at SEA LIFE Sydney Aquarium with the relaunch of the Glass Bottom Boat Tour + a brand-new Turtle Encounter! 
The reinvigorated experience is available just in time for school holidays after a long hiatus due to COVID restrictions.
As part of the tour, guests venture behind the scenes, boarding the Glass Bottom Boat to check out the Day and Night on the Reef exhibit's 1.75 million litre Oceanarium from above where they can watch the marine turtles glide through the water alongside tropical sharks, sawfish, giant grouper and hundreds of vibrant reef fish.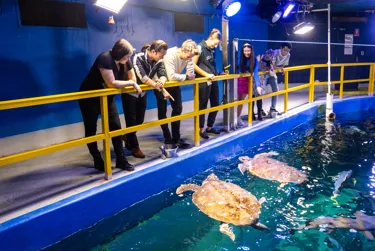 SEA LIFE Sydney's Day and Night on the Reef is home to three rescued marine turtles named Plugga, Dave and Chandler.
Plugga, the endangered Green Turtle, came into care at another facility in 1990 as a hatchling found on a beach near Coffs Harbour. When she was rescued, she had significant injuries including the loss of a rear flipper, possibly from a predator attack. Due to this permanent damage to her flippers, she was deemed unable to be released.
In 2019 Plugga was relocated to her expansive oceanarium home here at SEA LIFE Sydney. Earning her name from her resilient attitude to keep 'plugging' along with life despite her swimming impairment. Plugga weighs-in at a very healthy 120kgs and she is said by our aquarists to enjoy participating in the new encounter, particularly when her favourite treat squid is on offer.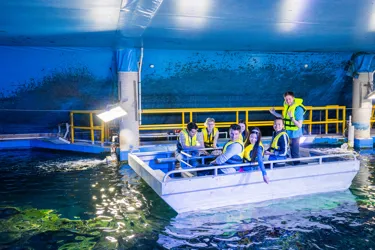 "Our Glass Bottom Boat Tour is a sneak peek into what goes on behind the scenes at the Aquarium. It gives guests the unique opportunity to discover a range of creatures from a different perspective and chat with our experienced guides. Our aim is to inspire a love for the ocean and its rich biodiversity.
The new Turtle Encounter allows us to share the story of our three rescued marine turtles, in doing so guests are sure to gain even more of an appreciation for these ancient marine creatures, a better understanding of the challenges they face and how they too can play an important role in their future", said Georgia Hall, Curatorial Supervisor at SEA LIFE Sydney Aquarium.