Four rescued and rehabilitated turtles released by SEA LIFE Sunshine Coast
Monday 23rd January 2023
SEA LIFE Sunshine Coast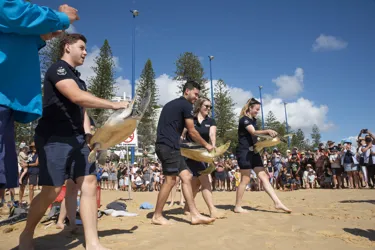 The green sea turtles were released back into the ocean at Mooloolaba Beach today
The team from SEA LIFE Sunshine Coast Aquarium has successfully released four rescued and rehabilitated green sea turtles back into the ocean at Mooloolaba Beach today. The quadruple release comes ahead of Clean Up for the Hatchlings on Saturday 4 February 2023, a free event run by Sunshine Coast Council in partnership with ReefCheck Australia, Unitywater and SEA LIFE Sunshine Coast, inspiring the whole community to come together to help clean up Sunshine Coast beaches in preparation for the hatchling turtles.
The four green sea turtles are named Jake, Luna, Goku and Cavill and came into the care of SEA LIFE Sunshine Coast from August to November last year thanks to Coolum Coast Care, Turtle Care and Noosa Council. Jake was found floating in the water offshore at Teewah Beach and received treatment to help move the gas build up. Luna was also found on Teewah Beach lethargic and anaemic. Goku was found washed up at Marcus Beach covered in marine leeches and burrowing barnacles, while Cavill was found washed up at Dicky Beach with an infected carapace.
"It's such an amazing feeling to have four turtles going back out into the ocean at once, it's such a great way to start the year. It's always bittersweet to release the turtles that we have cared for as we get so attached to them but it's certainly a win for the species," said Brittany Attwood from SEA LIFE Sunshine Coast.
All four turtles have undergone extensive rehabilitation at SEA LIFE Sunshine Coast Centre and were deemed ready for release by the veterinarians. Last year was one of the biggest years for the aquarium's Turtle Rehabilitation Centre with 74 adult and 44 hatchlings being cared for by the team throughout 2022.
Visitors to SEA LIFE Sunshine Coast can purchase a ticket for the Behind the Scenes Tour to see what goes on in the Turtle Rehabilitation Centre. Guests can also discover a range of other marine and freshwater creatures at SEA LIFE Sunshine Coast including sharks, rays, little blue penguins and more.
For more information visit http://wwwsealife.com/sunshine-coast/ 
People who come across a sick or injured sea turtle in the wild are encouraged to report it immediately to the Queensland marine stranding hotline on 1300 130 372.