From The Royal Easter Show to A Royal Tea Party, 3 Prize Winning Corgis Enjoy The Queen's Jubilee Celebrations at Madame Tussauds Sydney
Friday 3rd June 2022
Madame Tussauds Sydney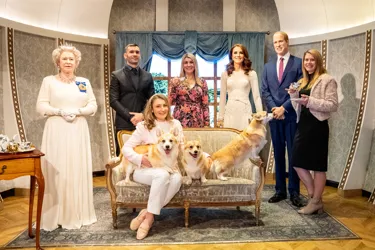 HRH Queen Elizabeth II was the guest of honour at a Madame Tussauds Sydney VVIP tea party, for her Platinum Jubilee, with other special guests including a family of three prize winning Corgis.
As Britain's longest reigning monarch with 70 years of service, today being celebrated with customary tea and cake, Her Majesty holds the record for having the greatest number of wax figures made around the world.
Her first model sitting for Madame Tussauds London, took place when she was just 2 years old, and she has had regular sittings for new and updated wax figures throughout her reign.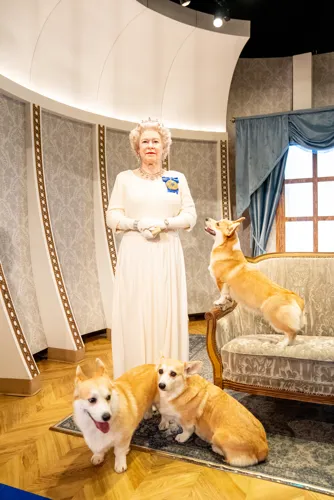 Elizabeth Regina looked especially radiant at the tea party, redressed for the occasion by the Madame Tussauds Sydney Studio team, in a replica of an outfit she famously wore on a visit to Australia, complete with the Gold order of Australia and a spangled tiara placed on the royal head.
While it's understood that the Queen no longer has any corgis of her own, she's been a proud owner of the breed since she was just seven years old.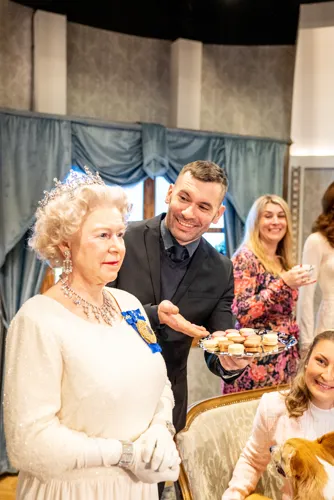 Special guests Lucia (8yrs), Hudson (3yrs) and Jemma (Hudson's daughter, 18months) are purebred ANKC pedigree dogs and are conformationally correct, meeting the ANKC breed standard, confirmed by their many wins in the show ring, including the 2022 Sydney Royal Easter Show. 
The Corgis were the only guests technically allowed to sit, given it is official protocol to wait for The Queen to be seated, and this wax figure of The Queen remains standing.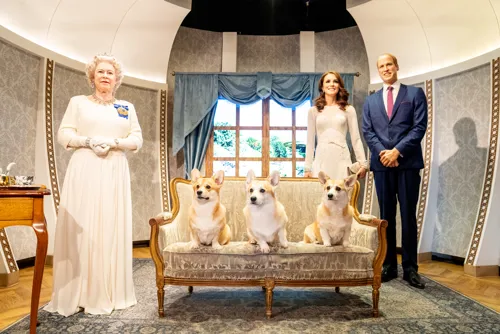 Owner of the impeccably groomed Welsh Pembroke Corgis, Kayla Grannall said, "Lucia, Hudson and Jemma are no strangers to the Royal Easter Show. They were delighted to be invited by Madame Tussauds Sydney, to attend their first Royal Tea Party. I think the Queen was quite taken by them."
Her Majesty the Queen is situated, alongside Prince William and Kate Middleton, in Madame Tussauds Sydney's The Royal Academy, which features interactive screens to help guests feel confident in the presence of royalty. Guests are coached on etiquette, teaching all how to correctly address a Royal, sit gracefully, curtsy like a lady and perfect the Royal wave.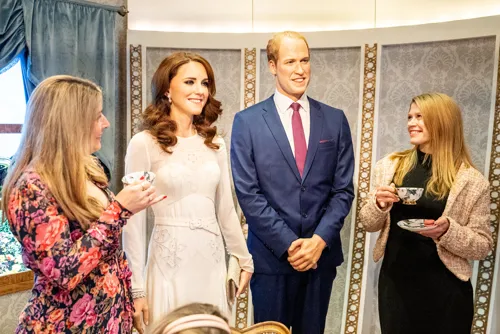 Meet the VIP's at Madame Tussauds Sydney by pre-booking your tickets here:
Pre-Book Your Tickets