Happy Feet As Six King Penguin Chicks Meet The Colony!
Thursday 30th June 2022
SEA LIFE Melbourne Aquarium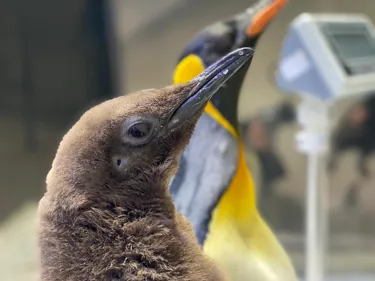 SEA LIFE Melbourne Aquarium's newest brood have graduated penguin preschool
Six King Penguin chicks have left the nursery creche and met the rest of the busy colony at SEA LIFE Melbourne Aquarium.
Upon meeting their fellow residents, they were seen displaying a range of natural behaviours. Flapping their wings, body posturing their tall stature and vocalising loudly in excitement! All of which our penguin keepers caught on camera.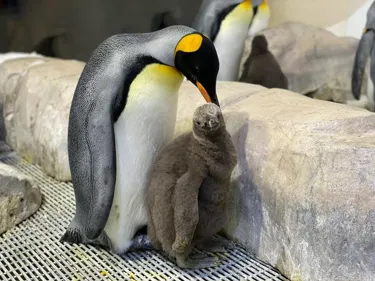 The chicks will remain under the careful supervision of their parents for a few months until they are around 10 months old. At that age they will fledge their fluffy brown down and be waterproofed in a layer of feathers, before taking to the water for their first swim.
The latest chicks have been named - Nugget, Honey, Pudding, Flamingo, Sausage and Beans.
"Beans and Honey have proven to be the most adventurous, venturing to the top of the exhibit, though the other chicks are never far behind. The Gentoo penguins are causing havoc, giving them some cheeky pecks when they come too close.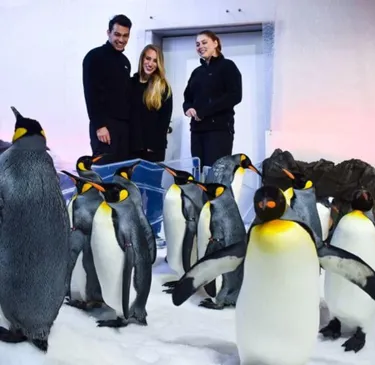 "Some of our other Kings (penguins) are taking on the responsibility of babysitting duty, whilst the parents enjoy a nice swim." Commented Sarina - Bird Manager, SEA LIFE Melbourne Aquarium.
The aquarium is home to a large colony of sub-Antarctic King and Gentoo Penguins, who reside in a special climate-controlled exhibit, to replicate the chilly conditions both species would experience, in their natural habitat.
Visit SEA LIFE Melbourne Aquarium to see the latest brood of chicks being cared for by their proud parents. Children can enjoy a range of fun and interactive activities including learning some of the King Penguins behaviour as they complete their very own underwater adventure book these Winter school holidays with the Colourful Creatures adventure trail.
Pre-Book Your Tickets Now