Love bites! SEA LIFE Sunshine Coast shares footage of mating sharks
Tuesday 22nd November 2022
SEA LIFE Sunshine Coast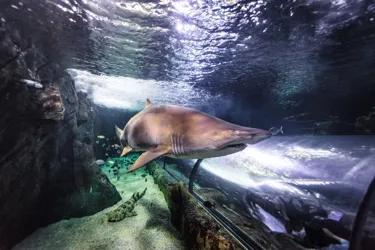 Critically endangered grey nurse sharks demonstrate tough love approach to mating
SEA LIFE Sunshine Coast Aquarium has shared rare CCTV vision of its resident critically endangered grey nurse sharks (Carcharias taurus) displaying typical mating behaviour. SEA LIFE Sunshine Coast is the only aquarium facility in Queensland to house the large and impressive grey nurse sharks and is also home to six other shark species.
The footage demonstrates the 'tough love' approach this species takes. Males must fertilise the female's eggs internally. In order to achieve this, males must orient themselves and their partner for successful fertilisation by using their teeth. If facing the same direction, males will typically grasp a female by the pectoral fin (large fin found on the side the body) before contorting his body around her into an appropriate position as demonstrated in SEA LIFE Sunshine Coast's footage.
The aquarium's three grey nurse sharks – named Pallas, Huey and Patches – are actively involved in a Zoo and Aquarium Association (ZAA) led Species Management Program. The program manages animal populations for protection against extinction, release to the wild, conservation research and community education.
SEA LIFE Sunshine Coast is proud to be the only institution in Queensland currently involved in this ZAA program. In 1997, the Mooloolaba attraction became one of the first aquariums in Australia to successfully breed the species and remains the most successful aquarium in the world for grey nurse shark breeding.
"Working towards sustainable populations of threatened and endangered animals is a huge goal for modern-day aquariums. To be contributing to this effort through the ongoing care of our population of critically endangered grey nurse sharks is very special. The sharks here at SEA LIFE Sunshine Coast are all ambassadors for their species, helping spread the word about the need for conservation and protection,'' said Oliver Underwood, Curator at SEA LIFE Sunshine Coast.
"This rare footage was taken as part of our team's ongoing observation and health monitoring of the animals in our care and is vital in helping us better understand the species. We share our findings with other organisations to help sustain and conserve wild populations," continued Oliver. 
Check out the amazing footage at SEA LIFE Sunshine Coast's socials here Facebook
For more information about the sharks at the aquarium visit www.visitsealife.com/sunshine-coast/whats-inside/animals/sharks/ and check out SEA LIFE Sunshine Coast on Facebook and Instagram.
SEA LIFE Sunshine Coast is open 7 days a week from 9am. For tickets and further information, visit: https://www.visitsealife.com/sunshine-coast/tickets-passes/