Madame Tussauds Sydney's The Drawing Room, Presented by Darlinghurst Life Drawing
Monday 28th March 2022
Madame Tussauds Sydney, Events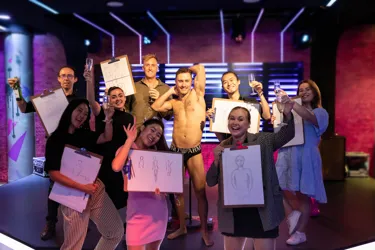 Wax On, Clothes Off, Pencils Out!
Madame Tussauds Sydney's new additions will be revealing more than usual in the Sydney Live Zone, over three dates commencing on 28th April.
Unlike the usual wax figures, world renowned for being frozen in time, these life drawing models may not be quite so motionless.
The male and female models from Darlinghurst Life Drawing, will strike a pose with the best of them, next to top celebrities including Katy Perry, Lady Gaga and Troye Sivan, while visitors etch their nude likeness, under the guidance of a professional art teacher.
Model Rhodes Hippman, joked, "It's an honour to be asked to model for Madame Tussauds alongside such prestigious musical artists! I like to think I'm quite the professional when holding still, but we may have to up-our-game, given the unflinching celebrity company we'll be in."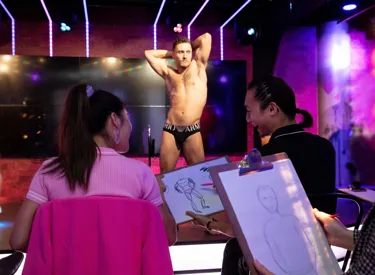 The exclusive event kicks-off at 6.30pm, where guests are free to enjoy an after-hours roam around the Madame Tussauds attraction. Visitors can strike their own pose and capture their own likeness with a selfie or two, as they out-strut Elle 'The Body' Macpherson, smoulder next to Nicole Kidman and muster the strength to assist Superman.
Art supplies, music, drinks and nibbles await them in the Sydney Live Zone, Madame Tussauds' home for its musical big hitters.
No former drawing skills are required, as this experience has been crafted to have fun and to celebrate Aussie spirit.
Richard Dilly, General Manager, Madame Tussauds Sydney, commented, "It normally takes us eight to nine months to perfect the likeness of our models, but we have faith that our guests will manage their own works-of-art in a fraction of the time."
What: Life Drawing classes: including: self-guided tour of Madame Tussauds, music, drinks and nibbles.
Where: Madame Tussauds Sydney - Sydney Live Zone, Darling Harbour, 1-5 Wheat Rd, Sydney NSW 2000
When: 28th April, 26th May, 30th June 2022
Time: Experience runs from 6.30pm – 9.30pm
Cost: $130
To purchase tickets via Eventbrite, visit links: 28th April, 26th May, 30th June 
Follow the Madame Tussauds Sydney social media pages for more updates:
Facebook @MadameTussaudsSydney
Instagram @TussaudsSydney
TikTok: @TussaudsSydney 
Follow Darlinghurst Life Drawing Instagram pages for more updates:
Instagram @darlinghurst_life_drawing
Facebook @DarlinghurstLifeDrawing