Making the incurable, curable at great heights this Jeans for Genes Day at Sydney Tower Eye
Thursday 4th August 2022
Sydney Tower Eye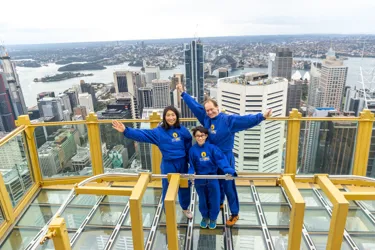 Sydney Tower Eye raises awareness and funds high above Sydney
Ahead of tomorrow's Jeans for Genes Day, Sydney Tower Eye has welcomed one of the young faces of this year's campaign to help raise funds for the vital work being done by the Children's Medical Research Institute.
The very special guest, Arato Green, aged 10, was diagnosed with genetic blindness 18 months ago, but that didn't stop him from scaling to the top of Sydney's highest outdoor adventure, SKYWALK, donned in his jeans, rather than the SKYWALK suit to mark the occasion.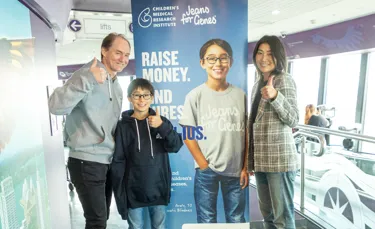 Arato, who was accompanied by his father, Tim Green, and Reeva Nadkar a Research Assistant from the Children's Medical Research Institute, were given an exclusive opportunity to venture outside and experience an unrivalled 360-degree view of Sydney on a guided tour ahead of opening.
As a naturally gifted and determined young tennis star, Arato dreamt of one day becoming a professional player – until he started missing shots he had once found easy. His coach told Arato's father, Tim, that something odd was happening, which he could not explain.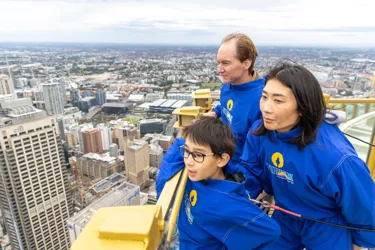 "Immediately upon explaining it to me, I had a feeling what the problem was,'' said Tim. Tim recognised the symptoms because he also lives with the same condition. Stargardt's Disease impacts a person's central vision and often starts in childhood, with black spots in the centre of the child's vision and sensitivity to light.
Arato now plays in Tennis Australia's Low Vision Competition where he is experiencing great success. School is a bit more challenging, because he struggles to recognise the faces of his friends, which requires a lot of adjustment.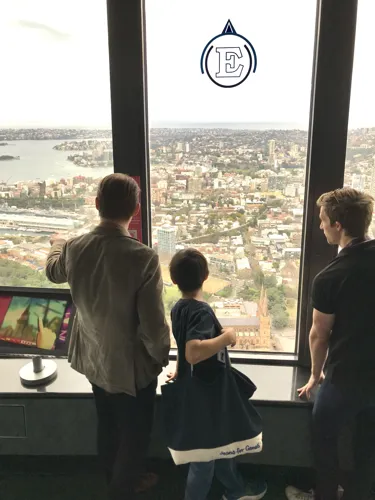 Mum, Junko, holds out hope for the gene therapy research being done in the Eye Genetics Research Unit at the Children's Medical Research Institute. Professor Robyn Jamieson was on the team who delivered the first ever gene therapy for a blinding eye condition in Australia and is leading the way in finding new treatments for many forms of genetic blindness.
"We heard about a clinical trial happening for children with Stargardt's Disease aged from 12 to 18, but Arato is only 10, so he's still not eligible, but it's exciting that it's happening. I was so happy to hear about that research.'' Shared Tim.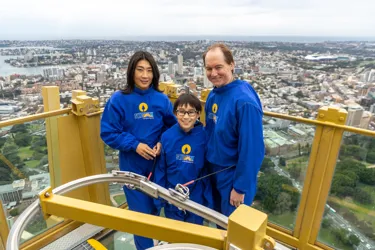 Tim said the family are getting behind Jeans for Genes to encourage people to invest in research. Stargardt's Disease or macular juvenile dystrophies are extremely complicated, but it can all be linked back to funding.
"We remain hopeful there will be a treatment for Stargardt's and hopefully that treatment will enable Arato's vision to be restored.'' Said Tim.
Richard Dilly, General Manager for Merlin Entertainments, Sydney attractions said, "Our team is delighted to put on their jeans and get behind the incredible work of the Children's Medical Research Institute by supporting the Jeans for Genes fundraising initiative. Merlin's attractions, including Sydney Tower Eye strive to provide an accessible day out to all our guests, many of whom may have additional needs. To give Arato and his dad the chance to champion this cause on top of Sydney is just magical."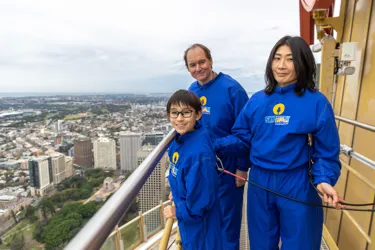 At double the height of the bridge, it is hoped that this very special SKYWALK has created memories that will last a lifetime for this very special family. Sydney Tower Eye will continue to support the campaign over the next week, encouraging guests to give generously via QR codes placed within the attraction.
If you would like to start your own fundraiser visit JeansforGenes.org.au.
If you would like to donate to Arato's Jeans for Genes fundraiser, which supports the work of Professor Robyn Jamieson, please visit:
Donate Here