Nervous Sydney-siders say "No!" to fear, conquering Sydney Tower Eye
Friday 11th November 2022
Sydney Tower Eye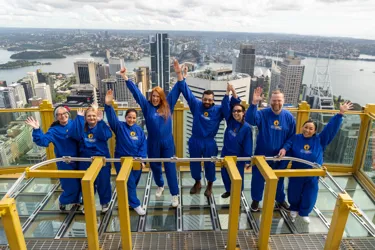 From white knuckles to big smiles overlooking Sydney Harbour
Phobia expert offers workshop and support on SKYWALK, Sydney's highest outdoor adventure
Sydney Tower Eye welcomed four brave phobia sufferers and their support buddies; French expats, a mother-daughter duo and a 'Yes Man' inspired woman, hellbent on overcoming their fear of heights. 
"Fear of heights or acrophobia is very common experienced by 6-12% of the population. It often involves much smaller heights like climbing a ladder or getting out on a balcony and can present a serious obstacle to living day-to-day lives." explained Gemma Cribb, Clinical Psychologist.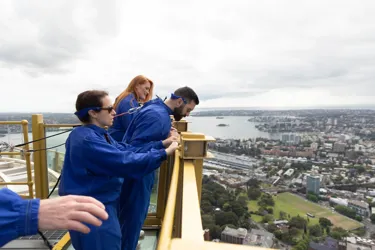 Step One: Each guest shared their story of where they felt this fear had originated from before Gemma took them through a phobia workshop to better understand their anxieties and how best to manage them.
Participants included Susan Cox, who at the age of 4,was pushed from a high wall which resulted in a broken arm. The week following the cast being removed she had another negative experience whilst riding a roller coaster. Today she feels queasy, gets dizzy and weak at the knees when confronted with heights.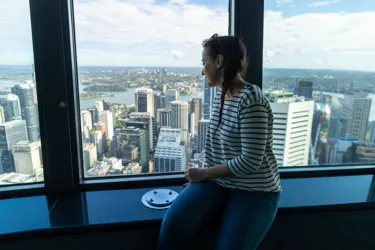 Step Two: Following the phobia workshop, in a little-by-little process, Gemma referred to as 'graded exposure', SKYWALK Guide Liv Robertson, travelled with the group via the lift to the attractions, Observation Deck. Stepping out of the lift they slowly grew more and more comfortable with the surroundings and views.
Another participant, Carmen Perrin, managed to stay calm and collected as she undertook several breathing techniques aided by Gemma to maintain control of her emotions whilst taking in the 360 degrees views situated 250m above the CBD.
Determined to push through her underlying fear she was encouraged along by her daughter, Casey, who was celebrating a special milestone, her birthday. Agreeing to support mum's tall triumph before the family spent the day out in the city.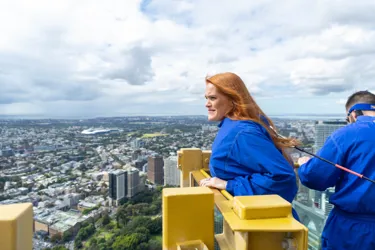 Step Three:  Two-by-two, the group were called in to prepare for SKYWALK – Sydney's highest outdoor adventure. Each guest was carefully fitted by expert guides with a safety harness.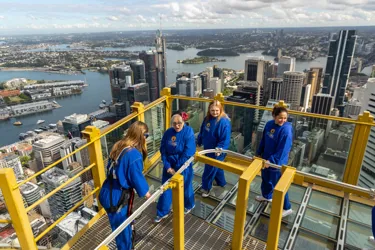 Step Four: Finally with the group's newfound confidence they ventured outside into the open air 268m above the city below the famous Westfield sign. 
At first, those with phobias were seen to be holding on for dear life at the railings. With time and the reassurance of their support person, Gemma and Liv, they grew confident. Going hands-free to pose for a photo and even jump for joy on one of the see-through glass platforms.
All participants acknowledged that they felt they had made huge progress in moving toward their personal goals of conquering their fears.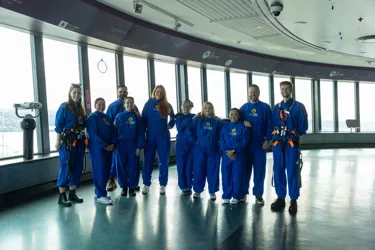 "I've looked up at the Eiffel Tower many times feeling fear. But now that I have conquered the heights of Sydney Tower Eye, when I next visit home, I am determined to put my new found courage to the test and experience it with my husband and son." shared Delphine.
Liv Robertson, SKYWALK Guide and Face Your Fear Ambassador at Sydney Tower Eye said, "To have been able to assist these four guests achieve something they didn't feel was possible, and to give them the chance to see all our city has to offer from this breath-taking perspective, is a very rewarding side to my role. I highly encourage those who worry about heights, to challenge themselves and visit us too and let us help you succeed!"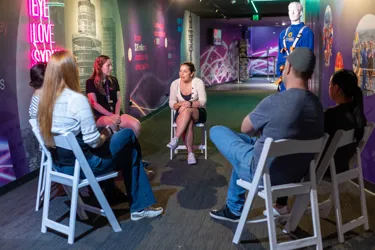 "Everyone did a great job of managing their anxieties and facing their fears today, and hopefully now they can all go on to enjoy a fuller range of life's activities". Shared Clinical psychologist, Gemma Cribb
The special guests were selected as part of a pledge challenge launched on National Face Your Fears Day, 11 October 2022, by Sydney Tower Eye, SEA LIFE Sydney Aquarium and WILD LIFE Sydney Zoo, in collaboration with, Clinical psychologist from Equilibrium Psychology, Gemma Cribb.
Gemma worked with SKYWALK guides, zoo keepers and aquarists to develop an online series of top tips and expert videos for guests, advising them why and how to face your fear of heights, sharks, snakes and spiders.
Did you know, Annual Pass holders can save on their SKYWALK? 
Save On Your Experience Now