Nine-year-old with low vision receives a life-changing gift at LEGOLAND® Discovery Centre Melbourne
Friday 10th June 2022
Legoland Discovery Centre Melbourne, Lego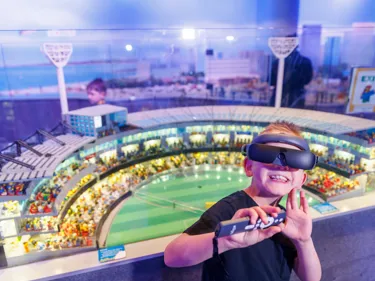 eSight and the Royal Society for the Blind (RSB) have gifted a nine-year-old with the life-changing device eSight 4 at LEGOLAND® Discovery Centre Melbourne! LEGOLAND® Discovery Centre Melbourne will now offer free access to an eSight 4 device, creating a more inclusive environment for guests with low vision.
A nine-year-old boy is now seeing life through a new lens thanks to eSight, RSB and LEGOLAND® Discovery Centre, starting with a fun day out at the Melbourne attraction.
The lucky recipient of an eSight 4 device, Ethan Pridham from Munno Para in South Australia travelled to the Melbourne attraction to receive his life-changing gift and experience the joy of LEGO® in a way that would have previously not been possible.
With a price tag of $10,000, eSight 4, eSight's latest technology, is clinically proven to enhance sight through a combination of best-match camera and lens technology to stimulate the brain, providing increased visual information that compensates for gaps in the user's field of view.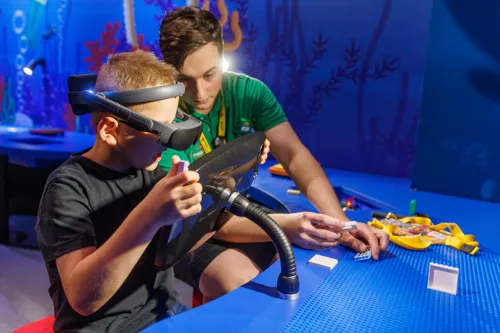 eSight 4 allows wearers to remain mobile and is used by thousands of people with more than 20 eye conditions, including Ethan's condition; Oculocutaneous Albinism. Whilst wearing an eSight 4 device, Ethan can see finer detail, which is perfect for LEGO® building, as the device helps to magnify and improve the contrast of what the wearer is seeing.
Today, on Ethan's first ever visit to LEGOLAND® Discovery Centre Melbourne, he had the opportunity to spend hours exploring the attraction – with Miniland Melbourne being the first stop! Ethan's
favourite activity appeared to be the stop-motion video room, where he worked with a staff member to create his own underwater themed build.
Ethan's mum, Kimberley explains that "Ethan's condition has made his life a lot more challenging than other children his age as it effects everything in his day to day life, from playing to schoolwork.
"Ethan receiving the eSight 4 is amazing, it is life-changing for him and will help make his everyday life a lot easier." Kimberley continued.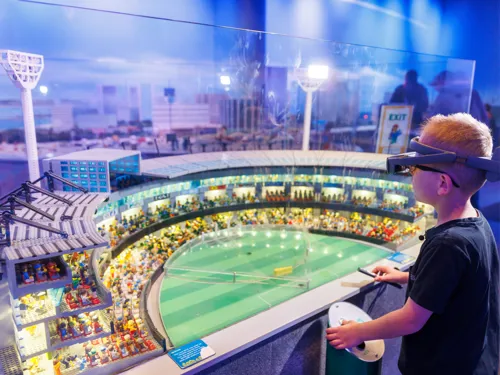 Merlin Entertainments who own and operate LEGOLAND® Discovery Centre in Melbourne have previously worked with eSight in North America to provide life-changing experiences for individuals with vision impairment, however this is the first time an Australian based initiative has been launched. The partnership aims to create more inclusive initiatives for individuals with low vision, and it is hoped that offering the free use of an eSight 4 device for guests will be rolled out to other Australian based attractions.
Gregory Ogorek, Chief Operating Officer and President of eSight said, "Our objective is to create a more inclusive world for people with central vision loss and to facilitate an improved quality of life through more independent living. We at eSight believe strongly in this mission and feel that we are well aligned with the goal of accessibility that Merlin Entertainments and LEGOLAND® Discovery Centre Melbourne have set forth."
Damian Papps, RSB Executive Director said, "RSB's purpose is to work alongside people with blindness and low vision to help them live life the way they want. I can think of no greater example of someone living their best, most engaged life than Ethan Pridham at LEGOLAND® Discovery Centre today.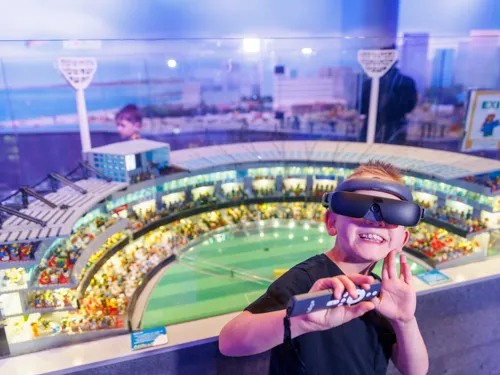 The importance of vision technology such as the eSight4 cannot be overstated for those with vision loss, and the way they see the world around them.
As a leading organisation and technology supplier in the vision sector, RSB shares a strong partnership with eSight (as their sole Australian distributor), and we're thrilled that this relationship now extends to Merlin Entertainment who has facilitated this unforgettable experience today. RSB is tremendously proud that an eSight 4 will now also be permanently available at LEGOLAND Discovery Centre Melbourne, allowing more kids, like Ethan to see differently.
"Claire Burrell, General Manager of LEGOLAND® Discovery Centre in Melbourne said, "Here at Merlin we are always looking for ways to create magical memorable experiences, and we strive to make those experiences as inclusive as possible for guests of all abilities. Our partnership with eSight reinforces this goal and what's more, gives individuals with vision impairment the gift of being able to experience our attraction in a way that was simply not possible before - that is something really special.
"I'm beyond thrilled that Ethan has received his very own eSight 4 device, and I'm also so excited that we now have the opportunity to give people with low vision a day they'll never forget – all they have to do is book the device via our website," Claire said.
To book the device ahead of time, please visit:
Book Device Now