Oh Baby! Six Fluffy Bundles Of Joy Welcomed Into The SEA LIFE Melbourne Colony
Friday 18th March 2022
SEA LIFE Melbourne Aquarium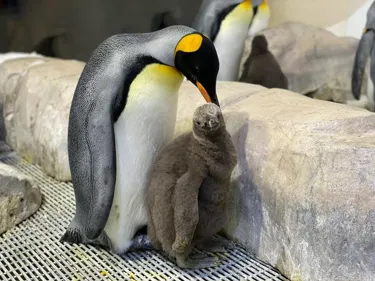 SEA LIFE Melbourne Aquarium announces its biggest breeding season to date welcoming not one, not two, but SIX king penguin chicks into their colony as part of their biggest breeding season to date!
The chicks range in age from one to two months old and are currently being cared for by their parents in a specially designed penguin 'nursery'. The new chicks will remain under careful supervision of their parents until they are around 10 months old, when they fledge into a waterproof layer of feathers and learn to swim.
So, who's who in the colony?
Nugget's biological parents are Oliver and Chicken (hence the name Nugget), however Nugget is being cared for by single foster dad Donnie.
Honey's parents are loving couple Blake and Matilda, and although Honey is 9 days younger than Nugget, Honey is 2kg heavier.
Penguin Chick 3: Flamingo
Third chick Flamingo is the biological baby of Egg and Sybil, however is being raised by foster couples Skipper and Queenie. Flamingo loves to have a cuddle with the other penguins, and also loves cuddling up to the legs of the Penguin Keeper team!
Beans' biological mum is Basil, however Beans is being raised by doting same-sex foster parents Jack and E.J.
Penguin Chick 5: Name to be announced shortly
The parents of chick number five are Hudson and Terry, however another member of the colony Nancy has chosen to foster the chick and raise it as a single foster mum.
Penguin Chick 6: Name to be announced shortly
The youngest of the six, this chick is only 30 days old and is the second chick for Oliver and Chicken this breeding season who they are raising themselves.
King penguins are one of the most visually-stunning creatures in Antarctica. Second in size only to the Emperor Penguin. With their vibrant plumage, impressive stature and majestic nature, king penguins are mesmerising animals to watch.
Want to meet the chicks for yourself? SEA LIFE Melbourne's behind the scenes Penguin Passport experience give guests the opportunity to discover the world of these flightless birds. Visitors can also learn about protecting the future of this precious species, with habitat degradation the main threat facing wild penguin populations.
Visit SEA LIFE Melbourne to see the newly-hatched chicks being cared for by their proud parents.
Find Out More