One day only! 30% Off LEGO® Sets at Sydney Tower Eye
Monday 24th May 2021
Sydney Tower Eye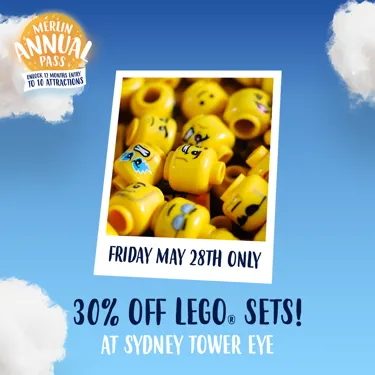 On Friday May 28th, 2021, for one day only, Sydney Tower Eye are giving Merlin Annual Passholders an exclusive 30% off LEGO® sets in their retail store when you spend over $100.
There are an incredible LEGO sets available to purchase using this discount:*
Statue of Liberty- $149.99
Trafalgar Square- $199.99
Empire State Building- $149.99
The White House- $149.99
Police Station- $299.99
Assembly Square- $399.99
Corner Garage- $299.99
Bookshop- $249.99
Old Trafford Manchester United- $449.99
Town Center- $159.99
Shopping Street- $119.99
Andrea's Family House- $119.99
Barn, Tractor & Farm Animal Care- $119.99
and so much more!
Book your visit today for May 28th below so you don't miss out!
*While stocks last
Terms & Conditions
The 30% off discount is only valid when purchasing a LEGO® set at over $100 retail price at the Sydney Tower Eye's retail store
The offer is only valid for one day exclusively to Merlin Annual Pass holders on 28th May 2021
You are required to show your valid Merlin Annual Pass at the cashier in order to enjoy the discount
BOOK NOW
Related blogs
Visit Brickman Cities Exhibition for just $1!
The Sydney Tower Eye's 'Brickman Cities' LEGO Exhibition is now accepting Dine & Discover vouchers, making your visit just $1.
Find out more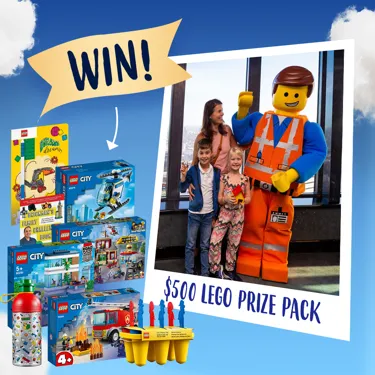 WIN a $500 LEGO® Prize Pack!
Sydney Tower Eye are giving our Passholders the exclusive chance to win the ultimate $500 LEGO® prize pack!
Find out more