PJ Masks dive into WILD LIFE Sydney Zoo and SEA LIFE Sydney Aquarium
Wednesday 17th March 2021
WILD LIFE Sydney Zoo, SEA LIFE Sydney Aquarium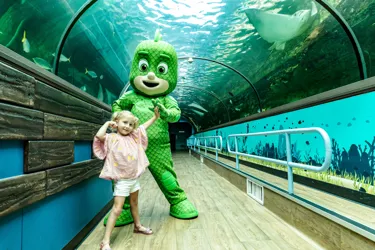 It's time to be a hero! During the April school holidays, PJ Masks are diving into SEA LIFE Sydney Aquarium and WILD LIFE Sydney Zoo for the first time ever with a brand-new animal adventure.
The hit animated series for pre-schoolers will be adding new adventures for kids to help 'Stop the Marine Mayhem' around every corner at SEA LIFE Sydney and 'help defeat the night-time baddies' at WILD LIFE Sydney Zoo before daily meet and greets with Gekko will be held daily from 10:30am at on Koala Rooftop from 1-18th April 2021.
The interactive animal adventures will give guests and fans alike an unforgettable experience that will deepen their connection with PJ Masks and its courageous characters. For the ultimate fans, a broad range of PJ Masks products will also be available to purchase in the SEA LIFE Sydney and WILD LIFE Sydney gift shops.
WILD LIFE Sydney Zoo
Embark on a wildlife mission, help The PJ Masks defeat the night-time baddies and find the missing animals. From the vulnerable Koalas to the endangered Tasmanian Devils – develop the skills and knowledge you need to help our Zoo. Learn about species at risk as you save the day and secure your stamp of mission completion.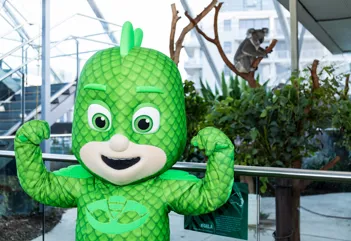 LEARN MORE
MARINE MAYHEM
Kids are tasked to help PJ Masks 'Stop the Marine Mayhem' by defeating the night-time baddies and restoring the aquarium to its peaceful state. Complete the mission by safely returning the kidnapped Shark, Ray, Clownfish, Starfish, Penguin and Jellyfish to their aquarium home.
Fans will experience sea-themed trails, six unique activities, a family photo wall and more family amusements that will bring everyone's inner hero to life.