Seal Birthday Cake Surprise at SEA LIFE Sunshine Coast!
Friday 3rd June 2022
SEA LIFE Sunshine Coast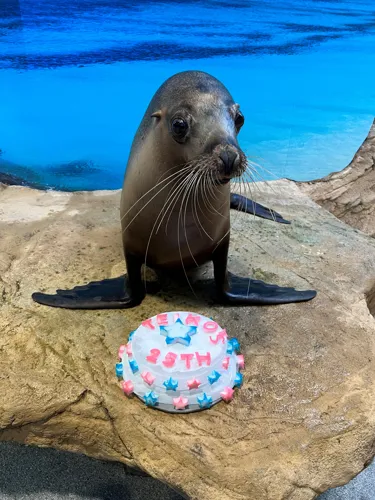 In celebration of Teiko the Australian Sea Lion's 25th birthday, the Seal Keeper team at SEA LIFE Sunshine Coast surprised the birthday girl with a very delicious fishy-birthday cake!
Teiko was treated to a specially made "fishsicle" cake, while the team and visitors sang happy birthday. Very excited by the delicious treat, Teiko couldn't wait until the song finished before digging into her cake!
In addition to her birthday cake, Teiko received a floating enrichment toy, which she delightedly played with in the water for the afternoon.
"Teiko was born here in 1997 as part of our breeding program for the endangered Australian sea lion species. She is very popular among guests and known for her unique swimming style and long whiskers. Teiko is a wonderful ambassador for her unique species and helped us raise awareness of the fact Australian sea lions are endangered, with wild populations decreasing more than 60% in the last 40 years," said Carla Haskell, Mammals Manager at SEA LIFE Sunshine Coast.
Wish Teiko a very happy birthday during your next visit. Pre-Book your tickets here:
Pre-Book Your Tickets Here