Seal'y season has arrived at SEA LIFE Sunshine Coast!
Thursday 15th December 2022
SEA LIFE Sunshine Coast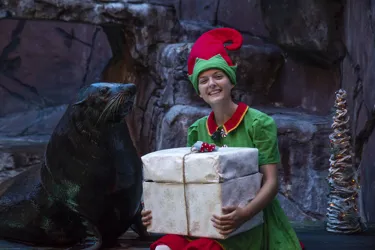 Watch Sly the long-nosed fur seal posting his letter to Santa!
Christmas spirit has taken over at SEA LIFE Sunshine Coast Aquarium today with Sly the seal taking time out of his busy day to post his letter to Santa!
With the help of some friendly elves, the long-nosed fur seal also got to open an early Christmas present and even help decorate the Christmas tree with some shiny baubles. For those looking for some 'ex-seal-ent' fun this Christmas, SEA LIFE Sunshine Coast will be open 7 days a week (except on Christmas Day).
This summer SEA LIFE Sunshine Coast is celebrating its Summer of Seals. From 10 December 2022 to 31 January 2023 the aquarium is celebrating these much-loved marine mammals with a range of school holiday activities for the whole family to enjoy. There will be new interactive opportunities for guests to get involved in the daily seal presentations that families know and love. Guests can also watch new enrichment sessions, take part in new an activity trail, discover fascinating facts at the artefacts table and take photos with the new seal mascot.
Sly is one of five seals at SEA LIFE Sunshine Coast who were rescued after being found injured and stranded in the wild. Sly was initially found with shark bites across his chest and abdomen and has undergone extensive rehabilitation over the years.
All visitors must pre-book their tickets online in advance. Visit www.sealifesunshinecoast.com.au for updates, tickets and opening hours.