Take Two! Connie The Rescue Turtle's Second Chance After Second Round of Rehabilitation at SEA LIFE Kelly Tarlton's Aquarium
Tuesday 17th May 2022
SEA LIFE Kelly Tarltons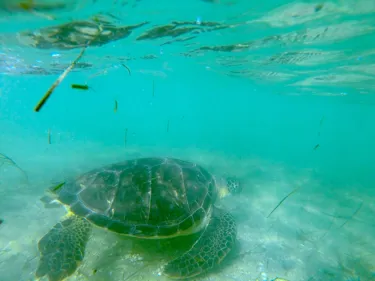 Green sea turtle Connie has been released after a second round of rehabilitation at SEA LIFE Kelly Tarlton's Aquarium
Connie the green sea turtle has been released back into the ocean after her second round of rehabilitation by the team at SEA LIFE Kelly Tarlton's Aquarium's Turtle Rehabilitation Centre.
Connie was originally rescued in December 2018, stranded in Henderson Bay weighing just 18kg. After this first rescue and rehabilitation by the SEA LIFE Kelly Tarlton's team, Connie was released at Poor Knights Island Marine Reserve in March 2019.
Almost two years later, in November 2020, Connie was found stranded yet again, this time just 9km from where she was originally found. After this second rescue, Connie has stayed in the care of the Turtle Rehabilitation team for the past 16 months.
When Connie was rescued in November 2020, she was found to have problems with her digestion, likely caused by the ingestion of non-edible particles such as plastic. Connie was also suffering from chronic pneumonia, which can be a common illness seen in sea turtles during the cold winter months.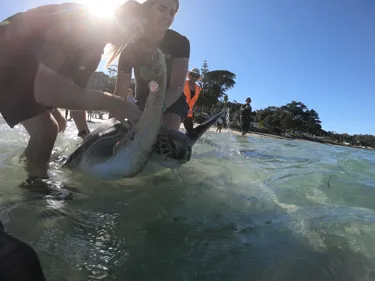 After initial tests and treatments by the veterinary team at Auckland Zoo, Connie was transferred to SEA LIFE Kelly Tarlton's to spend time in New Zealand's only rescue turtle rehabilitation facility. Connie was tube fed by the team daily in order to gain strength, and once Connie had fought off the pneumonia and her digestive system was cleared, the team focused on seeing Connie gain some much needed weight and building her physical strength swimming with the other turtles in care.
While undergoing treatment, Connie has proven herself to be a very active sea turtle – a strong swimmer with great buoyancy and a hearty appetite. At the time of her release last week, Connie weighed a very healthy 45kg!
"It's always a bittersweet feeling when we release turtles back into the wild as we spend so much time and hard work rehabilitating them and developing feelings for them. However, we have no doubt Connie is in the absolute best condition to survive in the wild and we are all so happy she gets this second chance at life!" said Jessica Van De Pas, Aquarist at SEA LIFE Kelly Tarlton's Aquarium.