Take your fitness to new heights at the top of Sydney at Sydney Tower Eye
Tuesday 23rd August 2022
Sydney Tower Eye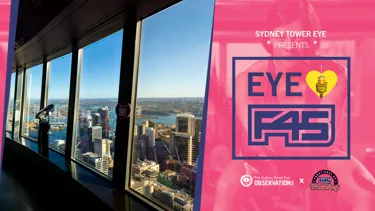 For one morning only, Sydney Tower Eye and two F45 franchises have partnered to present Sydney's most unique work out space: Eye Love F45! All proceeds from the Eye Love F45 event will be donated to R U OK?
Sydney Tower Eye will transform into Sydney's most unique work out space for one morning only, giving participants the chance to undertake a sweat dripping and heart pumping session with the best views the city can offer.
In partnership with F45 Alexandria and Zetland franchises, the event on Sunday 11 September will raise not only the heart rate of those involved, but also funds for national suicide prevention charity R U OK? with all proceeds raised being donated.
Eye Love F45 ticket holders will be given exclusive early morning access ahead of participating in a 45-minute fun session complete with a live DJ to pump up the atmosphere atop of the attraction's 360-degree Observation Deck. During the session, nine trainers will donate their time and expertise to demonstrate various exercises set at individual stations – each station taking in a different perspective of the stunning views which can stretch as far as the Blue Mountains on a clear day.
Richard Dilly, General Manager for Merlin Entertainments, Sydney attractions said, "As an F45 gym member it is such a delight to offer our iconic venue as a unique space to host Sydney's highest work out. F45 is well known for being one of the world's most famous and innovative workouts and to offer this on top of Sydney is just magical. Above all, I'm thrilled that it will create a conversation and raise funds for such an important cause".
A strictly limited number of tickets are available for just $30.00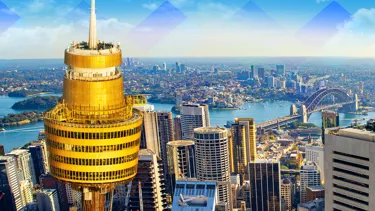 R U OK? is working to inspire everyone, no matter their location, to invest more time in the people around them and give them the skills, motivation and confidence to start a conversation with the people in their world who might be doing it tough.
If you would like to get involved or access a range of resources, visit ruok.org.au
If you can't make Eye Love F45, never fear! Sydney Tower Eye is open from Thursday to Monday where guests can take their time to enjoy breathtaking 360-degree views of up to 80km. Spotting all the famous city landmarks, including Hyde Park, Darling Harbour, Circular Quay, and the Harbour Bridge, or simply be amazed by the beautiful sunsets.
What: Eye Love F45 - includes: 45 min functional training session and exclusive access to the Observation Deck
Where: Sydney Tower Eye - accessed within Westfield Shopping Centre, Level 5, 108 Market Street, Sydney NSW 2000
When: Sunday 11 September 2022
Time: 7:45am doors | 8:30am training session | 9:45am concludes
Cost: $30 per person, all proceeds going to R U OK?
Tickets: strictly limited, purchase via the button below:
Book Now