The Octonauts have landed in SEA LIFE Sydney
Wednesday 24th February 2021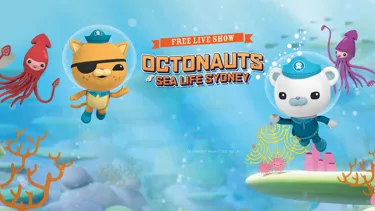 Captain Barnacles of the popular children's TV series Octonauts is swimming to SEA LIFE Sydney Aquarium next month for a series of free live shows.
The bravest polar bear will appear inside the aquarium's wharf side café for his very own undersea adventure. Young fans will be called upon to explore, rescue and protect the ocean by becoming Octo-cadets for the day and help the Captain as he solves the mystery of the Great Octopod Rescue.
Once the show is complete, families can continue their underwater mission by purchasing tickets to the aquarium where they can meet Captain Barnacles in the fur inside the Great Barrier Reef-inspired Day and Night on the Reef zone.
Free live shows will run for 30 minutes from 10.00am and 12.00pm on Mondays, Thursdays and Fridays throughout March. Meet and greets for aquarium ticketholders will take place on the same days between 11.00am and 11.30am. Ticketholders will also receive an activity booklet with activities to be solved around the aquarium.
Limited capacity is available. To avoid disappoint please pre-book tickets to the Octonauts live shows and purchase your SEA LIFE Sydney Aquarium ticket online and in advance.
Free Octonauts live shows at SEA LIFE Sydney Aquarium are supported by the City of Sydney CBD Activation Grant which aims to support businesses in the wake of the impact of COVID-19.
SEA LIFE Sydney Aquarium is included in the Dine and Discover scheme and accepts Service NSW vouchers for walk-up bookings only
EVENT DETAILS
What: Octonauts at SEA LIFE Sydney Aquarium
When: 1st March – 29th March
Where: SEA LIFE Sydney Aquarium
Cost of live shows: Free
Cost of meet and greets: Meet and greets will take place during allocated times and will be included in the cost of general admission. Prices start from $38.50 on weekdays and $48 on weekends.
LIVE SHOW AND MEET & GREET TIMES
Monday, Thursday & Friday at the SEA LIFE Sydney Aquarium Café
10 am – 10:30 am: Live show
11 am – 11:30 am: Captain Barnacles Meet & Greet at Great Barrier Reef display, exclusive for aquarium ticket holders
12 pm – 12:30 pm: Live show
BOOK NOW