Three rescued and rehabilitated turtles released by SEA LIFE Sunshine Coast
Tuesday 14th March 2023
SEA LIFE Sunshine Coast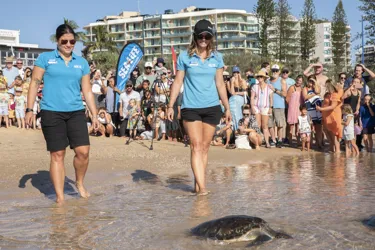 The team from SEA LIFE Sunshine Coast Aquarium have released 3 rescued and rehabilitated green sea turtles back into the ocean at Mooloolaba Beach.
Found underweight and washed up on the beach last November, Sassy now weighs in at a healthy 14.5kg. After some time in our rehabilitation unit, she has spent the last 7 weeks enjoying the ocean tunnel. 12kg Pierre has also been at SEA LIFE Sunshine Coast since November after being found with floating syndrome and covered in barnacles. He has spent the last month in the turtle pool. Due to her fluctuating weight, Ruby has been given special care in one of our quarantine tubs since she arrived in December and is now a healthier 9kg.
"It's such an amazing feeling to have three turtles going back out into the ocean today. It's a wonderful way to mark the end of SeaWeek and highlight the important rehabilitation work we are doing to protect these animals.  We strive to give the very best care to all the turtles we rescue, so being able to release another 3 healthy turtles today is a real win for us and for the species" said Laura Kippax from SEA LIFE Sunshine Coast.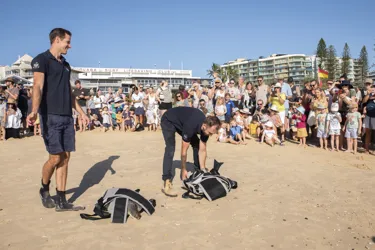 All three turtles underwent extensive rehabilitation at SEA LIFE Sunshine Coast Turtle Rehabilitation Centre and were given the green light for release by the veterinarians. Last year was one of the biggest years for the aquarium's Turtle Rehabilitation Centre with 74 adult and 44 hatchlings being cared for by the team throughout 2022.
People who come across a sick or injured sea turtle in the wild are encouraged to report it immediately to the Queensland marine stranding hotline on 1300 130 372.