Venomous platypus ''house swap'' as part of zoo match-making efforts
Tuesday 23rd August 2022
WILD LIFE Sydney Zoo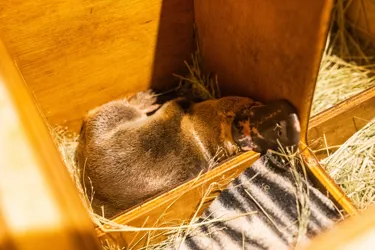 WILD LIFE Sydney Zoo is celebrating Platypus Month by working with Taronga in attempt to breed these marvellous monotremes. A month that aims to raise awareness to the plight of one of Australia's most unique and iconic creatures.
WILD LIFE Sydney Zoo is currently caring for Mack (Mackenzie) a 20 year-old male Platypus who is on loan from Taronga Zoo as part of the Species Management Program (SMP) led by the Zoo and Aquarium Association (ZAA).
The zoo is normally home to 18 year-old female Platypus Jackie who has made the temporary move across Sydney Harbour to Taronga in hopes of breeding with one of their resident males.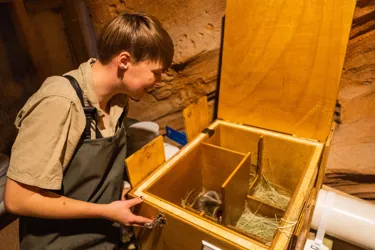 Something that surprises many is that male platypus are venomous. They possess a sharp spur about 12 millimetres long on each ankle. As part of this exchange, Taronga zoo keeper Robert Dockerill, provides ongoing support, knowledge sharing and training guidance to WILD LIFE Sydney Zoo keepers, for the safety of both Mack and themselves.
The venomous spur is connected to a gland that produces venom. The venom is known to cause severe pain to humans, and although not lethal, the pain inflicted has been described as excruciating.
During Rob's visit, he demonstrates the technique for safely handling a venomous male platypus which is often referred to as 'tailing', the animal is carefully handled by grasping the base of the tail allowing keepers to avoid the spurs when facilitating routine husbandry or veterinary management before securing them temporarily in a hessian bag to permit aspects other aspects of care like weighing.
WILD LIFE Sydney Zoo keepers are also shown how to examine their Tail Volume Index (TVI) used to score the platypuses body condition which also gives a good indication to an individual's health.
"Collaborating with organisations like Taronga allows us to contribute positively to a better understanding of these cryptic and unusual Australian mammals. Much of what we know about platypus has been contributed by animals in care, so I feel quite privileged to play a small part in this space" said Jessica Dick, Zookeeper – WILD LIFE Sydney Zoo.
When British scientists first laid eyes on the platypus in the late 18th century many believed the specimen was a hoax. "It naturally excites the idea of some deceptive preparation by artificial means," wrote English zoologist George Shaw in 1799. Shaw was the first to scientifically describe what turned out to be a very real creature.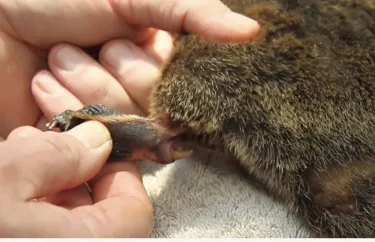 He went on to describe a 'duck-like bill'. Platypus can close their eyes, ears and nostrils when foraging underwater and use their sensitive bill as primary sense organ, which is equipped with electro-receptors. The bill serves to sift small prey from substrate, which are collected in cheek-pouches. Before chewing invertebrates like yabbies against grinding plates as they float and rest on the water's surface. 
Platypus along with echidnas belong to an ancient order of mammals known as monotremes which are egg laying mammals. Females are capable of laying between 1-3 eggs (usually 2). Once hatched their babies are referred to as 'puggles'. Much of what is known about the breeding behaviour generally comes from observations of animals in human care. Very few zoos have had success in breeding platypus so every effort and attempt provide new and exciting learnings, which can be shared with other organisations.
In winter (when water temperatures are low) males initiate mating interactions. Courtship includes a range of aquatic behaviours such as rolling sideways together, diving, touching and passing, and the male is also observed grasping a female's tail with its bill. The behaviour lasts from less than a minute to over half an hour and is usually repeated over several days.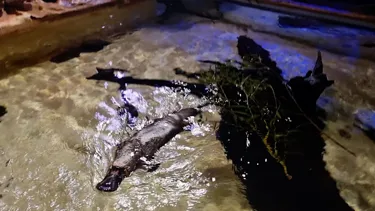 Platypus are endemic to Australia and are highly dependent of freshwater habitat including rivers, streams and lakes across the eastern Queensland and New South Wales, Victoria and throughout Tasmania. There is also an introduced population on the western end of Kangaroo Island.
Despite platypus being protected by legislation across Australia, there remains a great lack of knowledge around their population, so much so, that it was classified as Near Threatened in April 2014 by the International Union for Conservation of Nature (IUCN). 
Challenges such as habitat loss, human disturbance and accidental drownings all pose significant threat to the future of platypus. 
Come and learn more about our platypus at WILD LIFE Sydney Zoo:
Pre-Book Your Tickets Now