Venture behind the scenes at the Aquarium with the whole family at SEA LIFE Melbourne Aquarium!
Monday 11th July 2022
SEA LIFE Melbourne Aquarium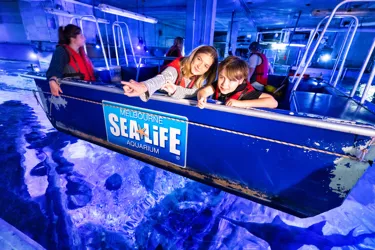 SEA LIFE Melbourne Aquarium relaunches its popular Glass Bottom Boat Tour
You can now get even closer to the enormous smooth stingrays at SEA LIFE Melbourne Aquarium with the relaunch of the Glass Bottom Boat Tour! 
The reinvigorated experience is available from Monday 11 July after a year-long hiatus due to COVID restrictions.
As part of the tour, guests venture behind the scenes boarding the Glass Bottom Boat to check out the 2.2 million litre Oceanarium from above where they can watch the giant smooth stingrays glide through the water alongside other ray species, sharks, a giant grouper and hundreds of fish.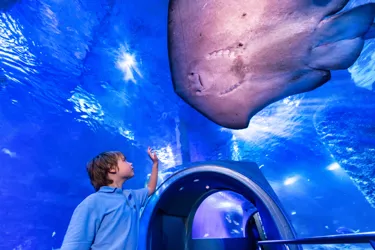 SEA LIFE Melbourne is home to four smooth stingrays named Mars, Caspar, Junior and Tops. Measuring 3 metres-long from head to tail and weighing 360kgs, Mars is the largest creature in the Oceanarium and the second largest creature in the whole Aquarium behind Pinjarra the 5-metre-long saltwater crocodile.
"Our Glass Bottom Boat Tour is a sneak peek into what goes on behind the scenes at the Aquarium. It gives guests the unique opportunity to discover a range of creatures from a different perspective and chat with our experienced guides. Our aim is to inspire a love for the ocean and its inhabitants and by getting even closer to the rays our guests are sure to gain even more of an appreciation for these amazing creatures," said Sam Fawke, Lead Aquarist at SEA LIFE Melbourne Aquarium.
The Glass Bottom Boat Tour runs every day and is available to guests aged four and above in groups of up to seven people. Places fill quickly, so we recommend booking online now to avoid missing out!
Pre-Book Your Tickets Now