When Dylan Alcott met his wax Game, Set and Match!
Wednesday 23rd November 2022
Madame Tussauds Sydney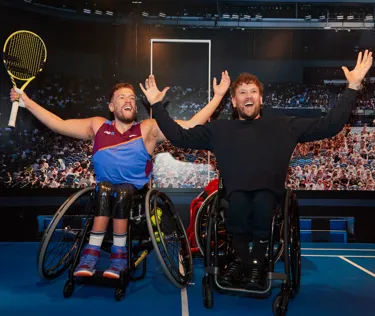 Australian of the year 2022, Dylan Alcott AO comes face to face with wax Dylan for the first time at the world-first unveiling of his Madame Tussauds Sydney figure
It was Game, Set and Match when Australian of the Year and sporting legend, Dylan Alcott AO came face to face with an exact wax replica of himself, at Madame Tussauds Sydney this morning!
The 31-year-old athlete, Paralympian, philanthropist, media commentator and Disability advocate today became Madame Tussauds Sydney's first figure in a wheelchair – his wax double sitting in an identical, replica chair to the one he played in when he won his 'golden slam' in 2021.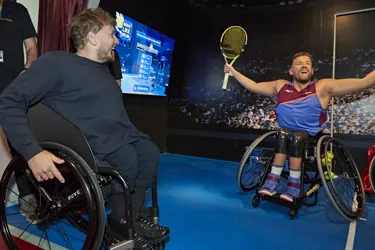 Guests to the Darling Harbour attraction can now put their wheelchair tennis serving skills to the test and "Serve Like Dylan", determining their serve speed in the new interactive experience, guided by commentary from Dylan Alcott AO himself.
Commenting on coming face to face with his wax double at Madame Tussauds Sydney, Dylan said, "Being immortalised in wax by Madame Tussauds Sydney is an absolute honour and a huge moment in what has been a great year. They've done a heck of a job, I look ripped! It's a special moment for our team! I feel proud to be here alongside sporting legends and some of the world's biggest celebrities and to be collaborating with the Madame Tussauds team in celebrating and normalising people living with a disability. Together we've created a fun opportunity for guests of all abilities to sit in a replica wheelchair and gain an understanding of sports from our perspective. It's sure to bring out your competitive side and you'll see it's harder than it looks!"
Dylan's figure will be sitting in a custom-built, Melrose Gazelle wheelchair, featuring the moulded fibre seat shell that helps deliver increased responsiveness during sport, dressed in the custom Nike collection that he wore in the 2022 Australian Open final, and sporting his Babolat tennis racquet.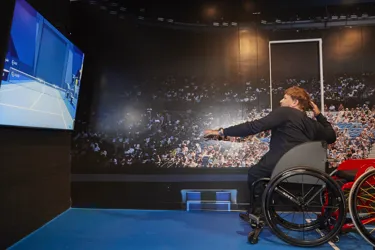 Richard Dilly, General Manager, Madame Tussauds Sydney, commented, "Dylan Alcott is a true Australian champion on and off the tennis court. 2022 saw him honoured as Australian of the Year and retire from Wheelchair Tennis as the world number one. Today we're honoured to add another 2022 milestone to his list, after a nine-month process, we reveal Dylan's incredible new figure at Madame Tussauds Sydney.
"Dylan's advocacy to drive change and represent diversity is awe-inspiring. We're particularly proud to have collaborated with him in creating an interactive, unique and immersive experience that will give guests some insight into the world of wheelchair sport."
In March 2022, a team of eight from Madame Tussauds welcomed Dylan into their Sydney-based studios and took 100 measurements and 300 photographs of Dylan. A team of highly skilled sculptors then spent approximately 170 hours moulding, before hair insertors and colourists added the crucial finishing touches.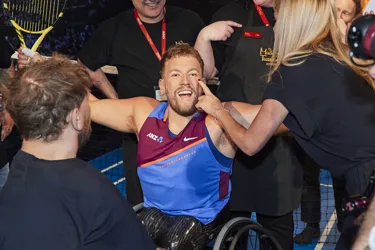 Special guests from the Dylan Alcott Foundation were invited to attend the big reveal and be among the first to try the interactive doubles wheelchair experience. In celebration of International Day of People with Disability (IDPwD) on 3rd December, Madame Tussauds Sydney will be donating $1 per ticket sale, from 3rd December to 10th December, to the Dylan Alcott Foundation https://dylanalcottfoundation.com.au/
Madame Tussauds Sydney offers immersive, interactive and exciting experiences to get impossibly close to more than 100 untouchable stars like Dylan Alcott AO. Dylan's wax figure will be in great company in the Madame Tussauds Sports zone – alongside the likes of Sally Pearson, Shane Warne, Glenn McGrath, Dawn Fraser, Tim Cahill and Lleyton Hewitt.
To purchase tickets, or for more information on the celebrities you can meet at Madame Tussauds Sydney, visit: https://www.madametussauds.com/sydney/